Janis Kelly in conversation with Nikki Lloyd, NLC soprano, just before our Summer 2011 concert.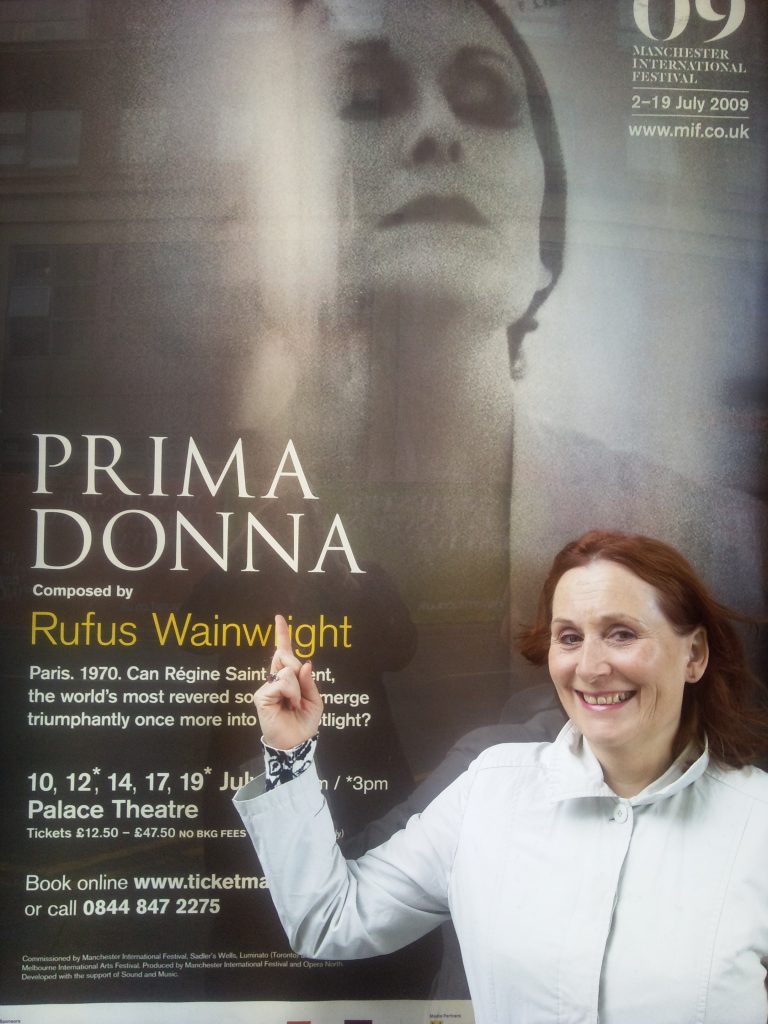 Dressed in the signature prim red coat and blonde bouffant wig, of former US First Lady Pat Nixon, Janis Kelly stepped onto the vast stage. Before her a sea of over four thousand faces eagerly awaited her first spectacular note to send a shiver down their collective spines. It was Janis's début performance at New York's Metropolitan Opera. 'It was quite amazing, a pinnacle in your career. They made me feel so welcome and it felt like the right thing to do.'
Reprising a role she first performed at ENO, once again opposite James Maddalena who has played the part of Richard Nixon for 25 years, she describes it as 'one of my very favourite roles'. Debuting at The Met, at twice the size of the Coliseum, was thrilling in itself (plus Janis finally got to meet composer John Adams) but getting the part was also a real coup for Janis as the only British person in the cast, in what is a very American role. Even though director Peter Sellars wanted her to do it, she still had to audition. 'Young singers think that they stop auditioning after they start their careers; it's not true, it does go on. People don't know your work and you still have to do it'.
Tonight Janis also reprises another of her favourite roles, as Patron of the North London Chorus. She laughs when I comment on the contrast, from Met to Muswell, but adds warmly 'whatever I'm doing at the time is the most important thing. It's very special to be attached, as a patron and a friend – to get to know them and watch them grow'. Her long-standing friendship with NLC conductor Murray Hipkin was key in her decision to become Patron. 'I've worked with him all my career, from the very start. He's a very inspirational person and musician and a close friend. The repertoire is challenging and you're rewarded by the great audiences and the following you have. The joy to the individual in a situation like yours is multiplied because singing together is such an important thing.'
Tonight is the first time Janis will perform This is Prophetic out of context. 'I'm hoping I'll be able to sing it without my red coat', she laughs, referring to her costume which incidentally she was wearing when she met Pat Nixon's daughter Tricia at a Met performance. 'It was extraordinary for me, there I was standing with the red coat on and the wig and I said "I hope it's not too strange for you looking at me dressed up like your mother"'. Tricia Nixon said not only was she very happy to see Janis but paid compliment to her acting ability saying she had some of her mother's characteristics. Actually it was Janis's own mother who she had in mind as she played the part. 'I grew up with that style of woman, the way they held themselves, the clothes they wore and I would always have a picture of her in my mind as I was performing'.
Some of Janis's earliest memories are of close harmonising with her seven siblings. She trained at the Scottish Academy and the Royal College of Music and has long standing associations with ENO, Opera North and Grange Park. She's played some unusual characters, most notably in Richard Thomas's televised Kombat Opera. She starred in Rufus Wainright's first foray into opera Prima Donna, and she's appearing with him when he does a week at the Royal Opera House in July. She recently played 99-year-old Sarah from the Old Testament in James MacMillan's Clemency and interestingly Janis is one of the few opera singers to cross over and appear at both Covent Garden and the Coli, as it is affectionately known to those who work there.
One might be tempted to think Janis has led a charmed life but this is a business where results are largely a result of unrelenting dedication. 'I was just very persistent'. I also get a sense that Janis still has a great deal of fun in her work. She's currently playing the Foreign Princess in Dvorak's Rusalka at Grange Park, where her love interest goes off with a mermaid 'I spend all my time going "but she can't talk" – there's a lot of fishy jokes going on!'.
Any spare time is split between teaching (she's delighted tonight to be sharing the stage with one of her students, Rosie Aldridge) and her family. I was astounded to learn that, as well her many achievements, Janis is also mother to 16-year-old triplets – an amazing achievement on its own. Janis feels lucky to have worked so much in this country when the children were little and motherhood brought its own unexpected benefits. 'I felt that new things happened to my voice, a different sort of strength. I think it was pushing that triplet buggy uphill!'. When asked about the future Janis is typically modest. 'As one gets older there are fewer roles that one can do, so you have to fight for them, look for them or pray for them.' But Janis is already booked up well in advance including Strauss's Intermezzo at Buxton and her debut in Los Angeles.
As I thank her for her time it occurs to me that she gives it so freely because there really is a blurring of the lines that might normally separate work from everything else. Singing is her life and she is never happier than when spreading the word. 'It's a good thing just to get people to sing, to use their lungs. You know it should be put on the health service – it really is a workout for the mind, the body and the soul!'
Murray on Janis:
It gives me enormous pleasure to welcome back someone very special to the choir whose face and voice will by now be familiar to many of our regular followers. I have known Janis Kelly since 1984 when we first worked together during Opera Factory London's inaugural season. It was my first professional job and Janis was playing Calisto and Juno in La Calisto and Flora in The Knot Garden. I shall never forget the sight of her as Juno in a tartan fat suit fishing in her handbag for mud to throw all over the unfortunate leading lady. Since then we have become firm friends and worked on many productions together with OF and at ENO, including, of course, on two occasions Nixon in China, so I am thrilled that we are able to celebrate her recent debut at the Metropolitan Opera by inviting her to sing Pat Nixon's aria this evening. When the choir was looking for a new Patron soon after my appointment, Janis seemed the obvious choice, and in spite of her busy and prestigious career as singer, teacher and mother, she has somehow managed to find the time to fit in at least one concert a season with us, as well as regular workshops, help with auditions and fundraising. We are incredibly grateful to Janis for her extraordinary dedication and I am sure I speak for everyone in the choir when I say that her influence and example have been among the most inspiring aspects of life in the North London Chorus. I am immensely grateful to her. MH