Next concert: 3rd December 2022, St James' Muswell Hill
Charpentier – Messe de minuit pour Noël (c1694)
Corelli – Concerto grosso in G minor 'Fatto per la Notte di Natale' (1714)
Handel – Dixit Dominus (1707)
North London Chorus
Meridian Sinfonia
Murray Hipkin, conductor
Soloists: Eloise Irving and Susanna Fairbairn (sopranos), Iestyn Morris (countertenor), Ben Thapa (tenor), Peter Norris (bass-baritone)
Our next concert is a feast of early music, featuring two completely contrasting baroque choral favourites.
Marc-Antoine Charpentier began his career composing for the opera stage, but turned to sacred music including 35 oratorios, hundreds of motets and at least 11 mass settings, of which the Messe de Minuit pour Noël is probably the most popular today. Written around 1690, it belongs to the "parody mass" genre, so called because the words of the liturgy have been set to some of the most popular tunes of the day in the form of Christmas carols or noels. Delightfully naïve, and with its roots firmly in dance and traditional music, it makes the perfect start to the Christmas season.
To counterbalance the simplicity of Charpentier's setting, we are performing George Frideric Handel's towering
masterpiece Dixit Dominus. Composed less than 20 years after the Charpentier, when Handel was only 22, this virtuosic setting of Psalm 110 for five-part chorus and soloists comprises nine movements which rival each other for brilliance and beauty. We will be accompanied by members of the Meridian Sinfonia on period instruments – lute, organ, harpsichord and strings, with the addition of two recorders for the Mass.
The programme is completed with Arcangelo Corelli's delightful Concerto grosso in G minor 'Fatto per la Notte di Natale' arranged for two recorders.
Tickets are available online here , and can also be bought from Les Aldrich Music Shop in Muswell Hill, or from the church.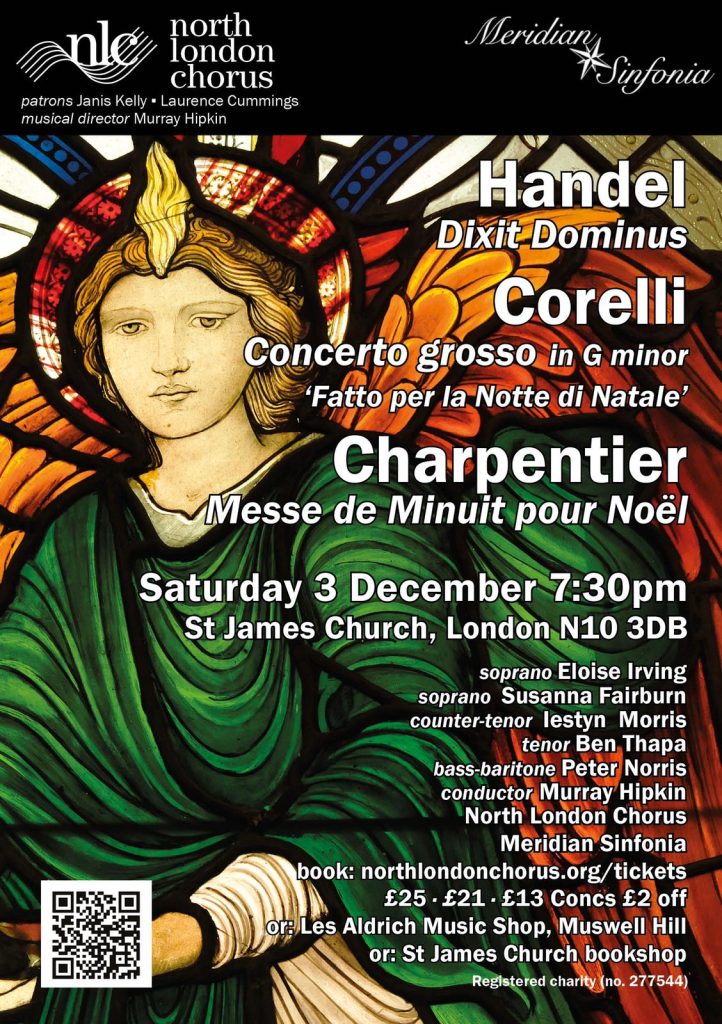 About North London Chorus
We're a friendly local choir, rehearsing on Thursday evenings and singing a varied and exciting repertoire of sacred and secular music from the last six hundred years or so. Led by our amazing musical director Murray Hipkin, we give concerts three times a year, often with professional orchestras and soloists, and our main performance base is St James's Church in Muswell Hill. Rehersals take place at Martin Primary School East Finchley on Thursday evenings. If you are interested in joining us, please see below for more information.
Here is a link to some of our performance in spring 2022 of Brahms's beautiful and moving Deutsche Requiem. https://vimeopro.com/meridianaudiovisual/north-london-chorus
Join Us – applications welcome!
Are you looking for a choir? North London Chorus is currently recruiting in all voice parts, especially tenors and basses.
Whether you are an experienced singer or discovering your voice, come and be part of this friendly, ambitious and well-established group of singers. Develop your skills under the expert guidance of our Musical Director, Murray Hipkin, and our team of professional vocal coaches, who give us technical guidance and support. Get involved in our regular social activities and theatre trips, and enjoy our annual residential weekends.
Rehearsals take place every Thursday evening in East Finchley from September to July except during the Xmas and Easter holidays. The choir performs three concerts a year, mostly in Muswell Hill, with occasional trips abroad (most recently to Zurich and Berlin) as well as concerts elsewhere in London and the UK. Watch this space …
Let us know if you would like to come along by clicking on Join Us.
Members' website: current news and information for members https://members.northlondonchorus.org/
Our sponsors