JOIN OUR CHOIR! We're looking for new members – see below and join us!
About North London Chorus
We're a friendly local choir, rehearsing on Thursday evenings and singing a varied and exciting repertoire of sacred and secular music from the last six hundred years or so. Led by our amazing musical director Murray Hipkin, we give concerts three times a year, often with professional orchestras and soloists, and our main performance base is St James's Church in Muswell Hill. Rehersals take place at Martin Primary School East Finchley on Thursday evenings. If you are interested in joining us, please see have a look at our "Join Us" page here. Want to know more about us? Then click here!
What's new with NLC
Aaaand relax! We were so chuffed to have such a good showing at our relaxed afternoon performance at our Summer 2023 concert. This is us taking a breather whilst one of our very talented soloists took centre stage. We loved the diversity of our audience, from more mature members mouthing the words to little ones enraptured by the power of opera. Get a front row perspective from audience member and Vocal Consultant Yvette Bonner here. Making music accessible is so important to us. We're sure this won't be the last time we perform in this format so please do join us then too!
We're looking for new members!
We've just started our 2023/2024 season with open rehearsals on Thursdays 7th and 14th September 2023 – it's been great to see some new faces.
Choosing the right choir can be a daunting experience – we've all been there. So before you commit why don't you try us out and see if we're a fit?
Find more details on our "Join Us" page here.
We're going Bach to the Future (sorry couldn't resist).
Our Winter concert will take place on Saturday 25 November 2023 in St James Church Muswell Hill.
Our Musical Director Murray Hipkin will be returning to the podium and we will once again share a stage with the wonderful Meridian Sinfonia.
More details to follow.
Watch us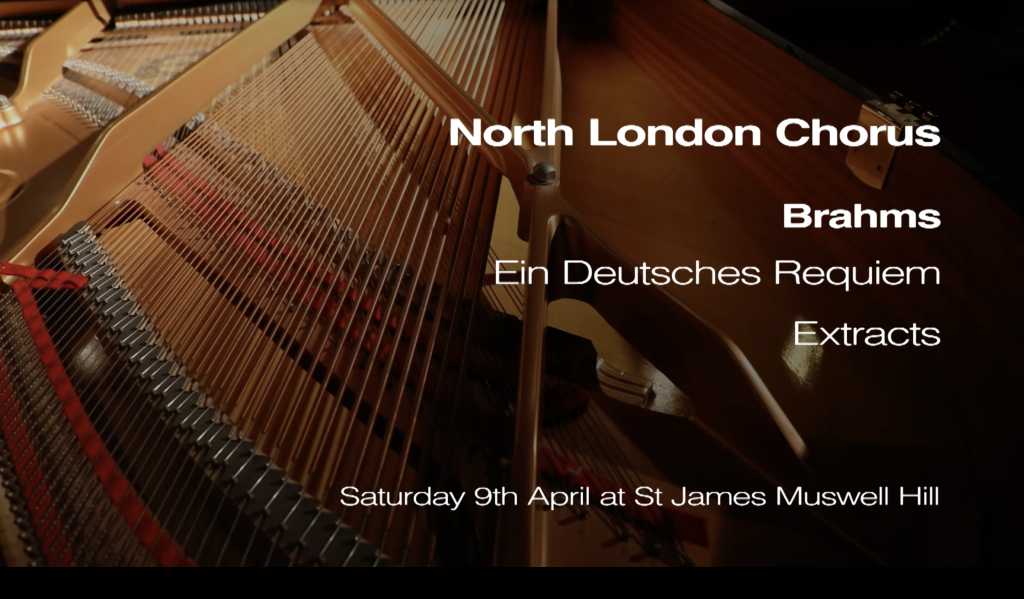 Our sponsors
We are very grateful to our existing sponsors, Nimrod Capital and Goodman Jones.