Saturday, 22nd June, 2019 at 7:30pm,
Invitation from Murray Hipkin, Musical Director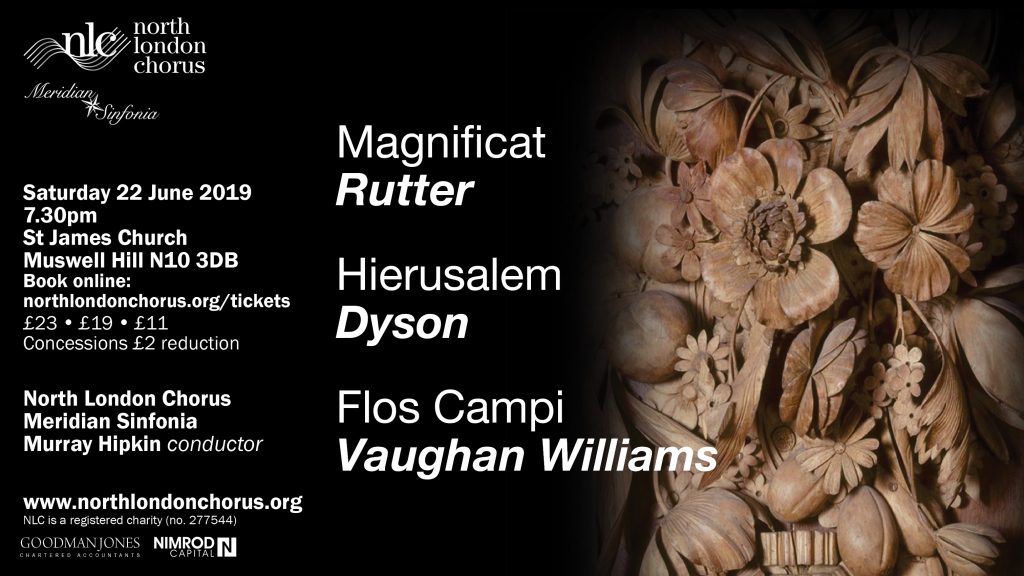 Following the sell-out performance of Bach's St John Passion in March, the third and final concert in the North London Chorus 2018/19 season will feature a triptych of contrasting sacred pieces by English composers and is at 7.30 pm on Saturday 22 June at St James Church, Muswell Hill.
John Rutter is probably most famous for his Christmas carols, but his larger-scale works are also hugely popular with choirs and audiences alike. The concert will open with his 1990 setting of the Magnificat, for soprano, choir and chamber ensemble. Last performed by NLC in 2003, this colourful and brilliant piece was inspired by "jubilant celebrations of Mary in Hispanic cultures".
The second half opens with a rarely-heard piece by Vaughan Williams for solo viola, wordless choir and small orchestra, Flos campi. Although the piece is continuous, it has six distinct sections, each headed in the score by a quotation from the Song of Solomon. There are no sung texts, and the choir is used instrumentally throughout to create a lush and sensual atmosphere. Although its premiere in 1925 had a mixed reception, it is now considered to be one of the composer's most subtle and inventive pieces.
We end with another comparative rarity, Hierusalem by George Dyson. Composed in 1956, this jewel of a piece is a setting of text derived from St Augustine in which the poet describes their longing for the Holy City, Jerusalem. Alternately contemplative and rapturous, choir, solo soprano and orchestra are woven together to create a radiant tapestry of sound which seems to transport the listener to a world where "no sorrow may be found, no grief, no care, no toil".
Stefanie Heichelheim has led the viola section of our orchestra, the , for NLC on many occasions and we are thrilled to welcome her back as a soloist. The soprano soloist is Muswell Hill-based . Yvette last appeared with us in the Salieri Requiem in July 2018 and we are delighted to announce that she has been working with the choir this season as one of our two Vocal Consultants.
Our March concert was dedicated to the memory of the Patron of the Friends of NLC and one of our regular soprano soloists, Sally Silver. You will be delighted to hear that the retiring collection for Brain Tumour Research in Sally's memory raised more than £1,000. Thank you for your generosity.
I do hope that you will join us.