Saturday, 9th March, 2019 at 7:30pm,
Invitation from Murray Hipkin, Musical Director (Please note this concert has now taken place.)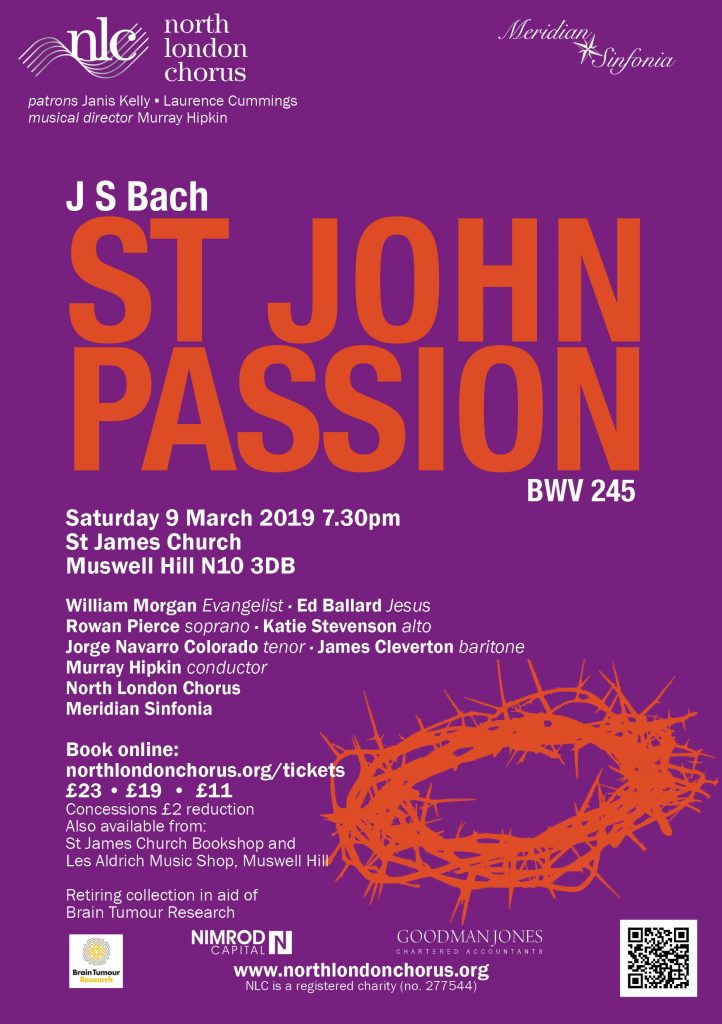 The second concert in the North London Chorus 2018/19 season is the choir's first performance of Bach's masterpiece St John Passion. Smaller in scale, but arguably more dramatic and immediate in style than the St Matthew Passion of 1729, the St John was first performed in Leipzig on Good Friday 1724, and, although Bach revised the piece for subsequent performances, we will revert to the original version and I am delighted to say that we will once again be accompanied by the on period instruments including theorbo, viola d'amore and viola da gamba. We will be singing in Neil Jenkins's English translation.
The choir is not only responsible for delivering the immense opening and closing choruses that frame the unfolding of the story of the crucifixion of Christ, as seen through the eyes of the Evangelist, but it is also required to take a key role in the drama with highly charged interjections of the mob, extended arguments from scripture and reflective hymns of grief and hope.
The pivotal role of the Evangelist will be sung by tenor , last heard here in the Company of Heavenand The Creation. The extraordinarily demanding solo arias are taken by mezzo-soprano (Nelson Mass), and baritone (Puccini's Messa di Gloria) both making return visits to Muswell Hill, and soprano with tenor , who both appear with us for the first time. James will also sing Peter and Pilate while the role of Jesus is sung by .
Rowan, William and Katie are all Harewood Young Artists at English National Opera and I am very grateful to the ENO management for their co-operation in making the singers available to us.
Regular supporters of the choir will be very sad to hear that Sally Silver, who appeared with us many times as soprano soloist between 2003 and 2017, most recently and notably in Verdi's Requiem at the Artsdepot, passed away in November. Shortly after her diagnosis with brain cancer in the spring of 2017 we invited Sally to become Patron of our newly-formed Friends of North London Chorus and at the launch, in spite of her illness, she gave a radiant performance of Mozart Exsultate, jubilate – a video of the performance can be viewed . Thanks to the Meridian Sinfonia, leader Eleanor Gilchrist and Orchestral Manager Richard Thomas for agreeing to the filming and to Mike Morton Wright at Meridian Audio Visual for donating his services. She was also a generous supporter of the choir, appearing at fundraising events and even sponsoring a young soloist on one occasion. We have decided to dedicate this concert to her memory, and we will be holding a retiring collection for , the charity chosen by Sally's family.
The concert will take place at 7.30 pm on Saturday 9th March at St James Church, Muswell Hill N10 3DB.
Look forward to seeing you there!