Saturday, 14th July, 2018 at 7:30pm,
(Please note that this concert has now taken place.)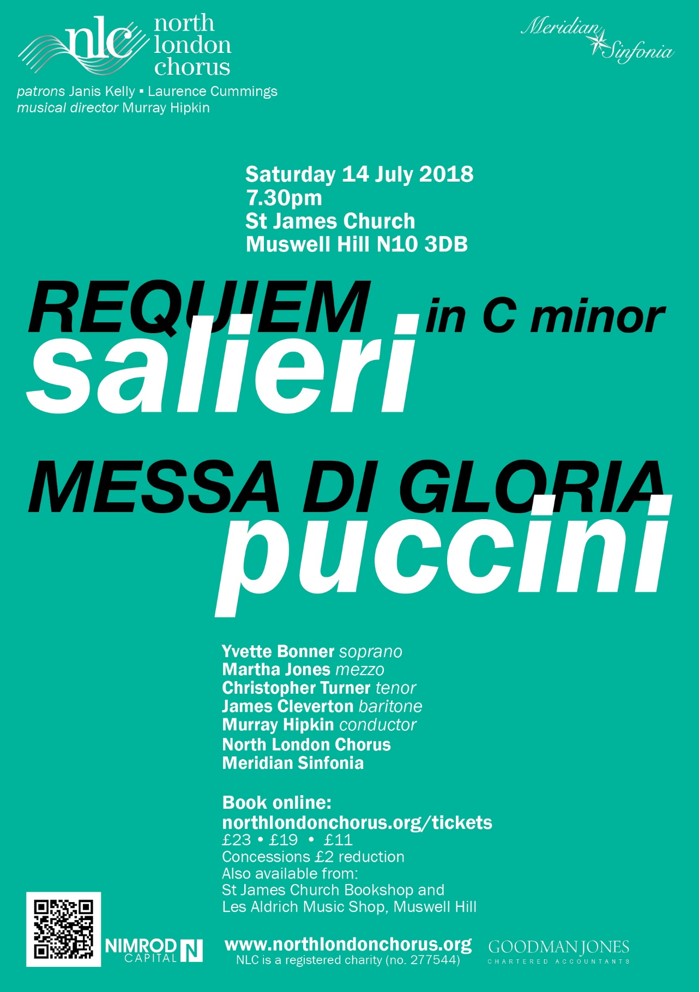 We invite you to our next concert which is on Saturday 14th July at St James Church, Muswell Hill and which features two contrasting sacred choral pieces by Italian composers – Salieri's Requiem in C minorand Puccini's Messa di Gloria.
Composed in 1804 but performed for the first time at the composer's memorial service in 1825, Salieri's austere yet poetic setting of the Requiem Mass is rarely heard these days. Overshadowed by his contemporary, Mozart, in life and death, Salieri achieved notoriety rather than fame in the 19th century as the result of a conspiracy theory that he had poisoned his rival. More recently he has been in the spotlight in the National Theatre's revival of Peter Schaffer's award-winning and heavily fictionalized play, Amadeus. He was a pivotal figure in the development of opera and a recent revival of interest in his music has led to the rediscovery of a number of works that are slowly and surely re-entering the repertoire.
Puccini composed his Messa a quattro voci in 1880 as a graduation piece. It was performed once, never published in his lifetime, and did not re-emerge until 1952, 28 years after the composer's death. Now commonly known as Messa di Gloria (which is a misnomer, since it is in fact a full Mass setting) it contains several themes which were recycled in his later operas and although it is not a mature work, it contains all the hallmarks of this extraordinary composer's theatrical and emotional range.
We are joined by four distinguished soloists, soprano , mezzo , tenor and baritone , and by our regular orchestra, the .